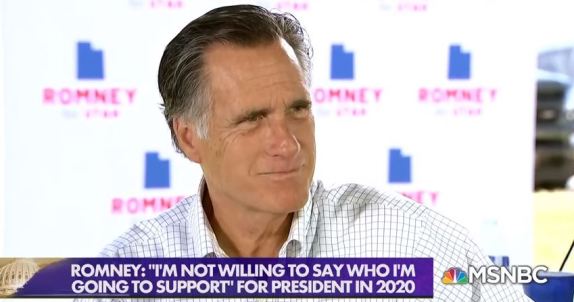 Mitt Romney Is a Virtue Signaling Twit
George Rasley, CHQ Editor
Leave it to Mitt Romney to be the first Republican (notice we didn't say conservative) to use the Mueller Report to criticize President Trump.
After the redacted report was released Romney issued a statement saying he was "sickened at the extent and pervasiveness of dishonesty and misdirection by individuals in the highest office of the land, including the President."
This hypocritical virtue signaling would be comical if it weren't so destructive – after all the Mitt Romney who is complaining about "dishonesty and misdirection" from the White House is the same Mitt Romney whose staff said he planned to "shake the Etch A Sketch" after the 2012 primaries and abandon the conservative positions he had taken to get the GOP nomination for president.
The comments for which Romney criticized President Trump were entirely justified expressions of outrage emanating from a man who knew he was wrongly accused and being set-up for the kind of process crimes that ensnared others, such as Roger Stone and George Papadopoulos.
But this is hardly the first time Romney has played this game.
As soon as President Trump endorsed Mitt Romney's candidacy to succeed Utah's retiring Senator Orrin Hatch and voters in the Beehive State handed the nomination to Romney (even though he actually lost the GOP State Convention vote) Mitt showed his true colors by back-stabbing Trump.
Romney told MSNBC's Kasie Hunt that it was "too early" to say he will support President Trump in 2020, and just to make things perfectly clear, he said his prior prediction that Trump will get re-elected was not an endorsement.
"I also think Gavin Newsom will get elected [as governor] in California. That's not something I want to see, it's just something that's probably going to happen," Romney added.
In that 2018 interview Romney was also prompted to speak about whether he wants a Republican to challenge Trump in a 2020 primary.
"There will be people who decide, I presume, to get in a Republican primary," he said in reply to a question from Ms. Hunt reported by our friend Daniel Chaitin of the Washington Examiner.
But Romney's perfidy was well-telegraphed before he appeared on Far-Left network MSNBC.
In a Salt Lake Tribune op-ed headlined, "Where I stand on the Trump agenda," Romney, the front-runner for the seat that vacated in 2018 by Sen. Hatch's retirement, made clear that if elected he would not walk in lockstep with Trump. Wrote Romney:
On one hand there are those who believe supporting the Trump agenda means supporting every policy the president proposes, whether or not they actually agree with that policy. It means refraining from criticizing anything the president says or does. The argument for this position is that you pick a team, so to speak, and when the leader of the team is criticized, his or her power to act is weakened and the opposition helped. So in order to achieve Republican policy aims, solid Republicans should stand with the president 100 percent, or at least stay silent when in disagreement.
I take a different course. I will support the president's policies when I believe they are in the best interest of Utah and the nation.
CNN's Chris Cillizza got it right when he said It's impossible to separate that view from the recent political context as well as Romney's fraught relationship with Trump. However, one wonders exactly where the Romney and Trump positions could diverge on today's most important issues.
Romney can't criticize Trump's economic policies that have brought record-low unemployment and rising wages for the first time in two decades and argue for the United States to rejoin the Trans Pacific Partnership.
Neither can Mitt reverse himself once again to favor open borders by flip-flopping away from support of E-verify and other Trump-supported policies that would diminish job prospects for illegal aliens to cause them to "self-deport" as Romney put it during his failed presidential campaign.
Nor can Romney sensibly oppose Trump's policies toward North Korea and advocate the Obama and George W. Bush policies that he favored during his failed presidential campaign.  Indeed, being nice to Kim Jong Un has a better chance of getting him to abandon his nuclear weapons than being nice to Mitt Romney has of getting him to support Trump.
When Senator Hatch retired and Romney decided to run President Trump endorsed him in a tweet saying, "@MittRomney has announced he is running for the Senate from the wonderful State of Utah… He will make a great Senator and worthy successor to @OrrinHatch, and has my full support and endorsement!"
President Trump's economic policies are working too well for Romney to credibly criticize them and Trump's border policy, even though it is often been stymied by overreaching federal judges, is too popular with the Republican Party's base to risk criticizing. Therefore, all Romney has left is to make Trump himself the object of his disapproval and position himself to be the leader of the Republican establishment's anti-Trump resistance.
We hope President Trump now recognizes the folly of trying to play ball with someone as perfidious as Mitt Romney has proven himself to be and that Trump goes back to what he said the first time Romney attacked him: Mitt Romney had his chance to beat a failed president but he choked like a dog.
Published with Permission of ConservativeHQ.com